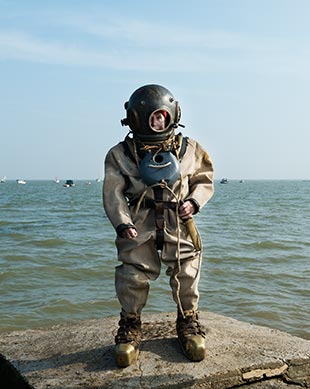 © Katrien VermeireConcept & Performers: Pieter De Buysser & Maike Lond
Text: Pieter De Buysser
Sounddesign: Lauri-Dag Tüür& Maike Lond
Dramaturgy: Esther Severi
Scenography & technician: Herman Sorgeloos
English Language Coaching: Miles O'Shea
Production: Hiros
Co-production: Kaaitheater, Kanuti Gildi SAAL (Tallinn)
With the support of: The flemish community, The Estonian ministry of culture
On 2 May 1915 Fritz Haber returned home from Ypres. He had seen one of his inventions being successfully put to use: chlorine gas as a weapon of mass destruction. A party was given in his honour.
His wife Clara Immerwahr, a brilliant physicist herself, found her husband's invention a perversion of science. After the party she shot and killed herself with her husband's service revolver. She died in the arms of her thirteen-year-old son.
Haber's invention was put to use after WWI too, in fertilizer (which enabled Bayer to grow into an industrial giant), as Zyklon B in WWII, etc. This also marked the start of a culture that eliminated the unique human bodily presence through mass production and also through endless repetition in image and sound recordings.
The theatre-maker and writer Pieter de Buysser, together with Maike Lond, created a performance inspired by the life of Clara Immerwahr. About gas and the disappearance of hand-to-hand combat, about the physical and the unaccountable, about mass production and mass destruction.
Pers